Derron Scott, CEO, Rizon Esthetics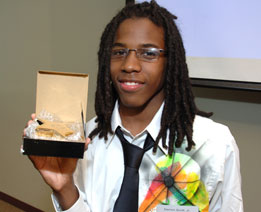 Derron Scott, Rizon Esthetics CEO on the Art of Clothing Design "I see clothing design and fashion as a creative fine art form and it makes me feel that I have left a legacy and connected with people when I see them wearing my pieces."
* 1st Place Regional Winner Spring 2007 NFTE Regional Business Plan Competition Greater Washington DC Area
* 1 of 32 Students (out of 20,000) who advanced to NFTE National Business Plan Competition Fall 2007
Derron Scott, 17, is the mastermind behind Rizon Esthetics. I imagine that right now he is fussing at me because he does not like that picture of him. OH WELL :) it is the only one I have of him where he is wearing a piece of his clothing. It will have to do until we have time to go and get his professional photos taken.
Derron is a High School Senior this year and is very much excited about it. As he is a very reflective and abstract individual it's not surprising that Rizon Esthetics is a socially aware company that creates custom designed limited edition apparel and sneakers using a fusion of freestyle art and design.
Always a very ambitious young person, Derron started drawing at age 2 (a natural talent he shares with his father and his grandfather). He started his business at the age of 12 selling hand designed t-shirts to his middle school classmates. Today his clothing is distributed in coutoure and indie boutiques as well as sporting good apparel stores throughout the mid-Atlantic region.
While I am pushing Derron to get on the Honor Roll this year, for the moment he is very much enjoying be a teenager and is happy that he won 'Homecoming King' for his Senior Class. And his company is currently grossing more than $5,000 a month which is no small feat. However, he thinks that between those 2 things he has convinced me that he is truly an overachiever in other ways and that I need to give him a little slack on his homework. Nice try, but I don't think so ;-)
On the flip side, I will say without second thought that he is an extremely dedicacted and focused entrepreneur. He has been 100% focused on his business since the age of 12. There has been many a nights that he has emailed me at 2 or 3 in the morning with an idea or needing advice on something as he was working hard to get his shirts designed and get his orders ready for delivery the next day. I am extremely grateful that our paths crossed and I can provide some guidance in helping him to further design his business perspective and to get to the next level. I also realize that one day sooner than later, he will probably be teaching me a thing or two about the business of business.
Visit Derron Scott's Rizon Esthetics blog to get on his mailing list and receive advance notice of his 'Virtual Global Launch Party' for his Spring 2008 Collection along with the announcement of his new website.
Our newest branding and enterepreneurial adventure, involves skate shops, something a little crazy and something multimedia related...don't ask ;-) Sign up for the update list if you want to stay posted.
For Media and Interview Requests, please follow this link.
Home l Media l Site Navigation l Affiliates l Online Store l Contact