F.R.E.E. Stuff a.k.a. No Purchase Necessary :-)
What is it with that crazy 4 letter word? NO! not that 4 letter f- word, the other one 'Free'. I used to think of kitchy stuff when I thought of that word but you know, as of recently it's been quite the opposite.
IntruI
Actually in the business world today many people give away F.R.E.E. stuff that is pretty darn good quality at that because they want you to give them a try. It is easier and usually more effective for them to locate their 'target market' and offer something of value that intrigues you and keeps you coming back than it is to acquire you through a mass blast direct marketing piece. It is their way of showing how they are truly better than that 'other guy'. Of course these days, people are willing to pay more if they find that something is of good value as opposed to pay less and deal with the headaches and all the rest of it. At any rate, I am searching the internet near and far looking for nifty valuable f'ree things for you in the world of cellular and wireless. And of course, I have a few things of my own to offer. So have a look and I hope that you find something useful.
Got something good or cool to add to the list? Use the contact form at the end of the page to submit your suggestion. If we publish your idea, I will give you the credit for your submission and who knows? Maybe I'll give you another little surprise as well ;-)
Get Your f.R.ee Goodies Here
Ca$h Back For Your Old Phone/BlackBerry Get Money Back For Your Old 'Phone(s)' Sell back your old phone(s) here. No purchase necessary. They will mail a check to you.
---
Phone Browsers Mini Browser for Your Cell Phone or BlackBerry This mini browser downloads pages a little slow but it does configure the pages so that it looks more like a little 'internet' which is actually quite nice as opposed to have scrambled links all over the page.
---
f.R.e.e Calls to India, China, or wherever...from your cell phone
Get f.R.e.e. calls cell phone to cell phone..YES! even when you are on the other side of the country and your friend is here. Think of it sort of like Skype for your cell phone. BTW, did you know that most cell phone companies intentionally set a delay in your phone so that you can't hog up all their bandwidth trying to call your friends through the data connection on your cell phone or BlackBerry? Come on...you didn't really think your *unlimited* data plan was truly 'unlimited' did you?
---
A F.rEe headset?
Is it 'used' or do I have to buy something to get it?
Nope, the headsets are mailed out by a non profit group that was founded in 2003 whose mission is to promote consumer driving safety with cell phones as in using your headset while you drive.
Making a contribution to their organization is optional, expressing your thanks is not ;-) we need more folks like them in the wireless industry. So be sure to drop them a short note once you receive your headset. Very much appreciate it.
---
Ringtones http://www.polyphonicringtonez.com/wap/index.php. The link must be entered in your mobile phone browser to work.
Make Your Own Ringtones No cable, no programming, no fees. Use all your favorite songs you have saved on your computer to save a clip and personalize your own ring tones. It's easy and fun.
Phone Zoo
Want Lots More Ringtones, Wallpapers and Screensavers?
Knock Yourself Out.
---
Wallpapers BlackBerry Wallpapers
Make Your Own Wallpaper No cable, no programming, no fees. Use the photos you have saved on your computer. Change it every week if you like :)
Want Lots More Ringtones, Wallpapers and Screensavers?
Knock Yourself Out.
---
Training & Education Introductory Course for Any BlackBerry - This course is an interactive online course offered directly from Research in Motion (Maker of the BlackBerry)
---
F.ree Phones...of course I kind of figured you would be looking for one. And better yet, shipping is also included. What more could you want?
---
Spam Blocker for Your BlackBerry BlackBerry Spam Blocker This application is great for consumers, non-profits and small business accounts.
---
Ezine Subscription Get a complimentary subscription to my Rockin' Ezine, Full Signal (a $97/year value). You know you want it :)
We respect your email privacy. Rest assured we will NEVER rent, sell or trade your email address.
---
BlackBerry Instant Messenger BlackBerry Instant Messenger Use Yahoo Messenger, AIM, MSN and others with your screen name directly from your BlackBerry.
---
Articles (f.ree for reprint) Want to use my article(s) on your website, blog or in your personal or corporate ezine? You can as long as you keep the links unaltered and the blurb about me included at the end of each article. I would also appreciate it if you can drop me a note and tell me where you are using it. Thanks.
Minor Detail: Wireless and IT Are Not the Same
Cell Phone Mergers, Did They Help Us or Hurt Us?
---
Berry 411 Berry 411 Yellow/White Pages, Weather, Information and more.
---
Ask Me Now Ask Me Now is a fun little program for the times when you are out with friends and the name of that movie or song is on the tip of your tongue or "How To"--darn near anything or get the latest sports scores for your favorite team. SMS or email the folks at Ask Me Now and they will email you back with the answer or information you are looking for.
---
Cell Phone Trend Junkie? Check out this list of really cool and fun gadget blogs.
Special Report: Ruh Roh...Leashing the Wireless Mutt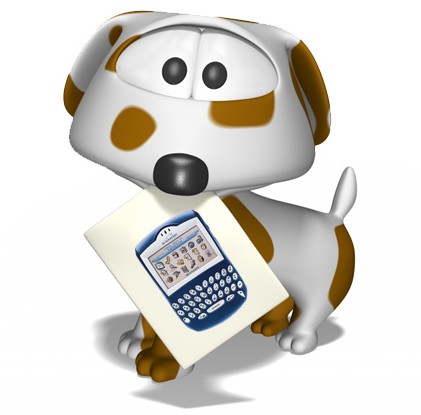 Special Report: Ruh Roh: Leashing the Wireless Mutt How to Manage and Train America's New Mixed Breed Litter of Wireless Puppies
This special report was created and written by yours truly, Shonika Proctor (of course, lol)
"Digital Puppy" Created by my Graphic Artist Extraordinaire,
Nusrat Abasi
Download this F.ree Special Report now
This special report is an Adobe .pdf document. You will need Adobe Reader (the latest version is recommended) installed on your computer in order to open and read this special report. You can get Adobe Reader here (a new window will open so you can download it without leaving this page).
If you want to open the file in your browser window, just click on the link. However, if you want to download the file to view later, then right-click on the link and choose "Save Target As" or "Save File As." Then select where you want to save the file on your hard drive.
Once you have saved the file, locate where you saved it, and double click to open.
---
Got Comments, Ideas, Questions or Suggestions for *groovy* F.Ree Stuff? Fill out the form below and let us know. Thanks for sharing!
Home l Media l Site Navigation l Affiliates l Online Store l Contact