Meto Edwards, CEO, Pinq Cow
Meto is Extremely Detail-Oriented...
...."it was originally saved as a .png, but the colors get a little weird as a jpg. if you magnify it to 400% you'll see it... mother is really annoyed when i obsess over tiny pixels no one sees but it drives me crazy" :P
Details, details, details, that is definitely Meto for you. And she wonders why when she's commissioned to do 'corporate projects' why she never imagined when she originally bid on the project that it would take so long, lol. Meto was my first full time NFTE Protege. I started working with her in the Spring of 2006 after I saw her amazing art work at the NFTE Annual Gala in DC. Things have changed quite a bit since then. Currently she is preparing for her Freshman year in a local MD college where she will be studying Graphics Design and of course, running her business with what little free time she has remaining.
Her company is called Pinq Cow Designs. As she is always so darn busy with lots of other projects and playing video games she never has time to focus on her own website. We are getting there though.
Meto is an extraordinary artist, often coming up with characters off the top of her head. She hand designs all kinds of characters 'skethchies' and then scans them in the computer and colors them online. She does custom design work for both print and web.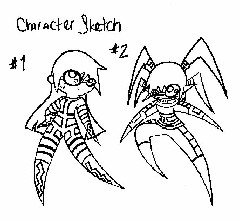 Meto has been commissioned to do all kinds of projects that include custom web page art design, original character development, custom corporate greeting and thank you cards, comic strips and book covers.
These days she is SO NOT excited about the offline part of marketing her business and the people to people networking, but oh well, she will get used to it soon enough. Going from fear to faith regardless of your chosen endeavor is one of the most challenging but also rewarding parts of entrepreneurship and life.
Her next adventure...Exploring design opportunities in Skate Apparel?!?! ;-)
To commission Meto for corporate design jobs please visit Meto's Website, Pinq Cow
For Media and Interview Requests, please follow this link.
Home
l
Media
l
Site Navigation
l
Affiliates
l Online Store l
Contact